Transportation
Bob Wills said to take him back to Tulsa. You should do the same, and let us help you find your way! Nestled in the central United States, Tulsa is easily accessible via ground or air, and is a short drive from one of the most inland seaports in the US– if that floats your boat.
Just a 10-minute drive from downtown Tulsa, TUL provides quick and convenient service for your travel needs. Take advantage of one of TUL's many nonstop flights as you plan your trip to Tulsa. 
Looking for ways to travel once you've landed? Learn more from TUL.
Direct Flights
Drive Times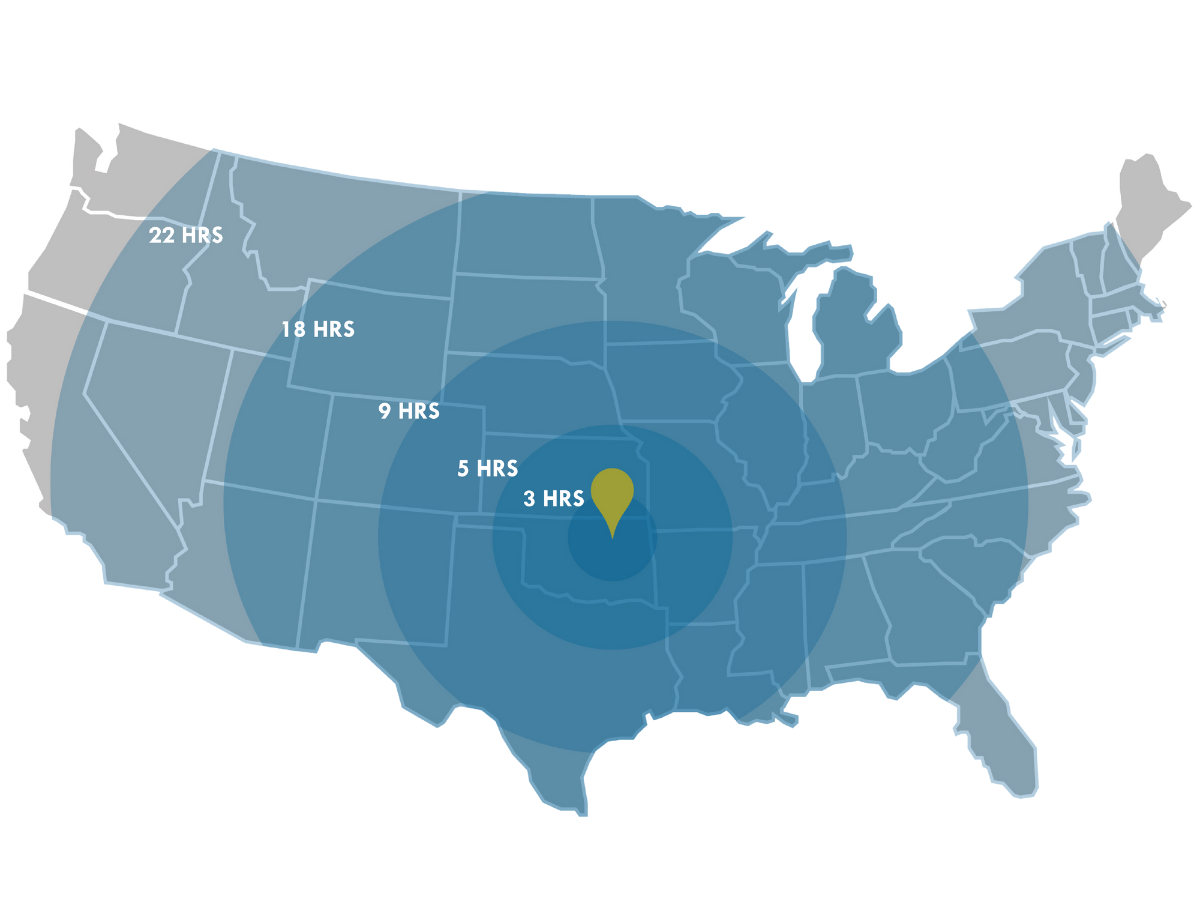 Once You're Here
Whether you prefer to walk, drive or scoot, get around T-Town in style.
Drivability 
It's no surprise that Tulsa is ranked in the top 20 of "Most Drivable Cities in the U.S." by Wallethub in traffic and infrastructure. Most Tulsans travel by car because, on Tulsa Time, nothing is ever too far away. You can expect a 15-20-minute commute to almost any part of Tulsa. 
Start on the Right Foot 
Once you get to your destined part of town, it's never a bad idea to take a stroll and truly take in all the vibrant sights our city has to offer. Gatsbian art deco architecture combined with an ever-increasing number of artful murals in a downtown that is deep in the process of urban planning for improved walkability, you've got to take in the sights while you're here. 
This Machine Tulsa 
Looking for some light exercise as you explore Tulsa? Thanks to This Machine Tulsa, you can explore Tulsa on two wheels starting at $2 with a 15 cent per minute fee after your first 10 minutes, or just $8 for a whole day of riding. The bikes are electric, so you control how hard you work. To get started, all you have to do is download the This Machine app, find a bike, and ride. The app even has curated routes optimized for different themed, self-guided tours of Tulsa! 
Scooters 
Scooters more your speed? Bird and Lime electric scooters can be found all over town and have become a new favorite for Tulsans and visitors looking for a fun way to zip to and fro. 
Aero BRT & Tulsa Transit
Aero BRT is Tulsa's streamlined bus transportation provider. These modern buses feature sheltered seating, bicycle racks, level boarding, onboard Wi-Fi, charging stations and real-time arrival signs. The bus has one route that follows the Peoria corridor, a prominent street that runs through the entirety of Tulsa and connects people to many major destinations in Tulsa. The process is easy. People seeking transit on the AEROBUS need only to purchase a pass and use it at the farebox. The buses run every 15-20 minutes and must be boarded at a designated stop. 
Tulsa Transit oversees Aero BRT and provides general bus operations throughout Tulsa. Both Tulsa Transit buses and Aero BRT can be accessed using the GoPass app which gives users the ability to plan their route, track buses along their route, pay bus fares and more. The app is available via Google Play and Apple.