Are you planning a ladies' weekend in Tulsa? Congratulations! We're jealous. Whether you're looking for fun things to do in Tulsa with your girlfriends or planning a true Art Deco-inspired Tulsa bachelorette trip, you're in for an amazing time. From brunch in Utica Square to living it up Tulsa Club-style, we've got plenty of tips to make sure your girls weekend in Tulsa is a hit.
Places to Stay
If you're planning an overnight stay, you'll need a place to crash. For the best access to most attractions, restaurants and bars on this list, staying near downtown, Cherry Street, Utica Square or Brookside will set you up for success. Check out a few of our picks:
1324 S Main St.

(918) 587-8200
The Ambassador is a historic landmark hotel that was lovingly restored and reopened in 1999. It is…
415 S Boston Ave.

(918) 508-7400
Come experience history, and relish in all the modern conveniences at the Courtyard by…
2210 South Main Street

(918) 960-0714
On a rolling hill just south of downtown and north of The Gathering Place is one of Tulsa's most…
121 S Elgin Ave.

(918) 779-4445
A uniquely "Tulsa" hotel experience. The culture of the surrounding neighborhood is reflected in the…
115 W 5th St.

(918) 582-6296
The Mayo Hotel opened in 1925 and instantly became the social hub of high society. The Mayo played…
115 E 5th St.

(918) 582-5722
Downtown Tulsa's Newest Upscale Hotel Explore this art deco marvel city currently experiencing a…
Getting Around
If you're not driving your own vehicle, there are plenty of ways to get around in Tulsa. Public transportation does exist, we recommend downloading the GoPass app to access Tulsa Transit buses.
If you're into biking, check out This Machine, our local nonprofit bike share. Using their app, you can find This Machine electric pedal assist bikes around town and ride them on our pristine paved bike trails that can take you from the Gathering Place to River Spirit Casino Resort. Plus, Tulsa has plenty of access to rentable electric scooters.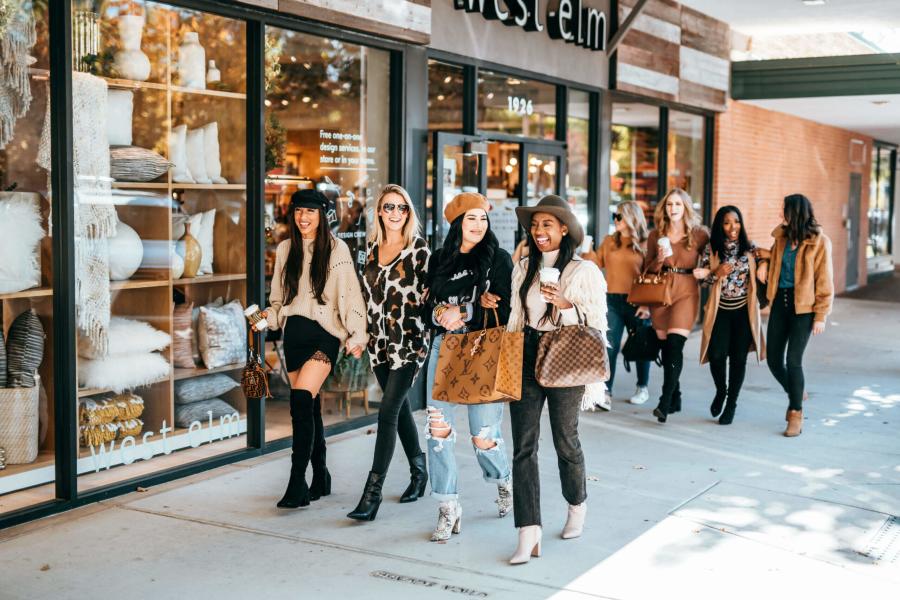 Shopping in Utica Square.
Friday
Midday: Check In & Check Out Happy Hour
Drop your luggage at your hotel or vacation rental, then head out for happy hour (or fit in a quick nap first, we understand). Head to Utica Square for greenhouse vibes at Bar Serra, venture to Cherry Street for the SideCar penthouse experience, or mosey over to Brookside for afternoon fika at Freya: Nordic Kitchen.
Afternoon: Shop 'til you Drop
If you chose one of the above happy hour spots, you're surrounded by cute shops and boutiques. Utica Square boasts retail from Kendra Scott to Saks Fifth Avenue. You can find more local goods on Cherry Street and Brookside with staples like Peace of Mind Bookstore and slade - apparel + home. Thrift shoppers will love Jenks Main Street, known as the "Antique Capital of Oklahoma," where you can discover unique finds at places like Miss McGillicutty's or River City Trading Post.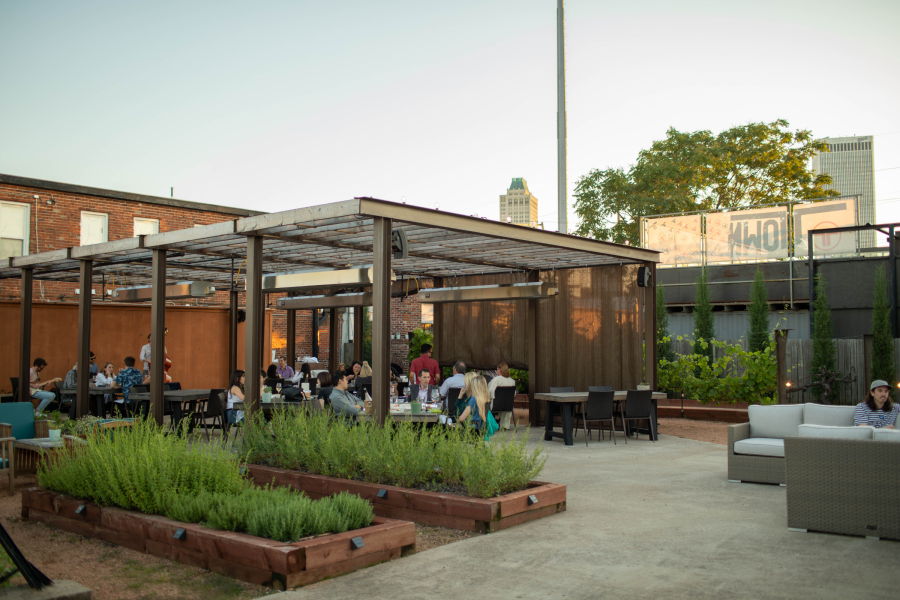 Outdoor dining at Lowood.
Evening: Grab a Bite to Eat
After shopping, take a minute to relax with gourmet bites from one of our fine dining options. Try The Hemingway on Cherry Street or head to Oren on Brookside for excellent service and delicious entrees. If you're in the mood for downtown dining, visit Bull in the Alley or Boston Title & Abstract for speakeasy flair, or head up to in the raw vu for the penthouse experience. Or, head to Lowood's patio for vineyard vibes and a stunning skyline view.
Night: Drinks & Dancing
After dinner, it's time to hit the town. Ease into things with craft cocktails at a bar like Valkyrie, where friendly bartenders will create a cocktail for you based on adjectives you choose, or Saturn Room–downtown Tulsa's out-of-this-world tiki lounge.
Once you're ready to dance, head over to St. Vitus for EDM or Whiskey 918 if you're looking to show off your cowboy boots. The GOAT boasts a Mediterranean atmosphere with booth reservations available. For even more fun, Club Majestic hosts delightful Friday night drag shows.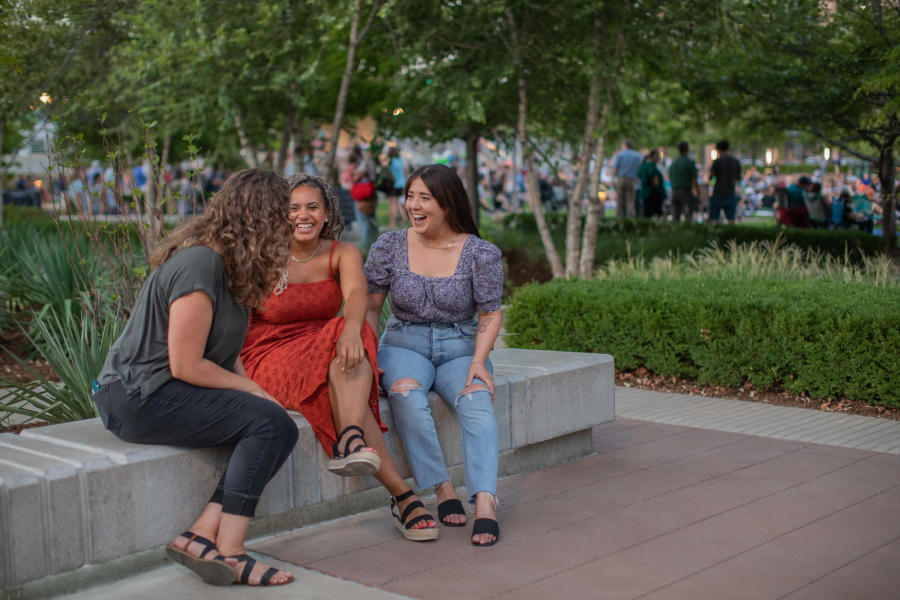 Hanging out in the Guthrie Green.
Saturday
(Optional) Hit up the Tulsa Farmer's Market, Oklahoma's largest farmer's market, in Kendall Whittier every Saturday morning during the spring and summer, or every other Saturday year-round.
Morning: Caffeine Run
Whether you want to run or not is up to you, but you have to explore the Tulsa coffee scene while you're here. This city takes coffee seriously, with several local roasters who mean business. Find coffee cocktails and breakfast bites at spots like Cirque in the Pearl District, Topeca in Philcade (or Topeca at Vast Bank), Hodges Bend or Chimera–or head somewhere like Neighborhood Jam or Hatch boasting larger menu selections in addition to their coffee cocktails.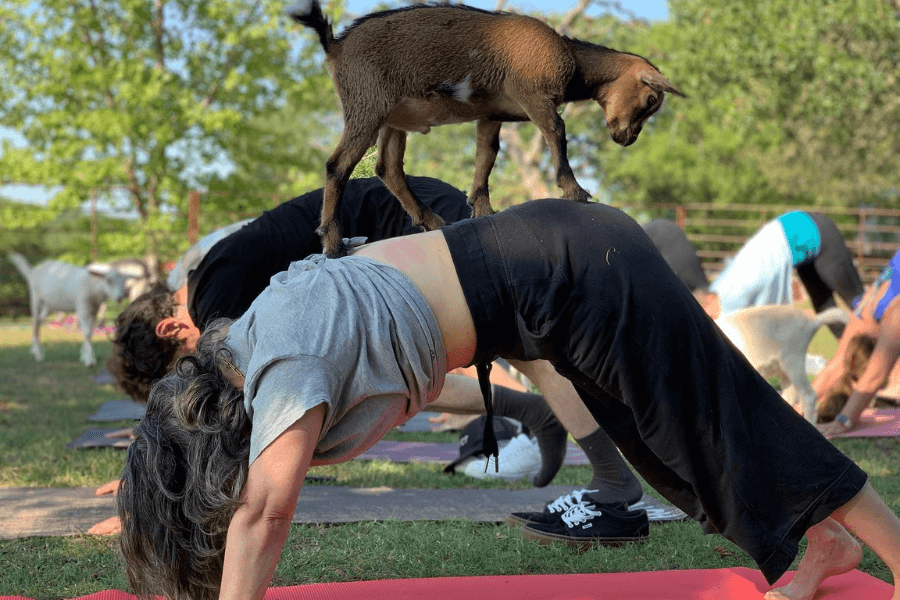 Yoga with High on a Hill Dairy Goats, LLC.
 
Mid-Morning (Option 1): Enjoy Green Country
From floral fields to rugged hiking, Tulsa has outdoor experiences for everyone to enjoy. Start your day with goat yoga on a picturesque farm. Or, check in with your inner child at the Gathering Place, boasting incredible play equipment and miles of manicured walking paths in addition to a few onsite food and beverage options. This park is nearby shopping and dining on Brookside and Cherry Street.
If your group is into adventure, check out Turkey Mountain Urban Wilderness Area. The Tulsa Botanic Garden also offers hiking paths along with beautiful flowers year-round. Meanwhile, Woodward Park and the Tulsa Garden Center provide the perfect backdrops for any group photos just down the street from Utica Square.
Mid-Morning (Option 2): Treat Yourself
Organize a spa day for your ladies at Poppi's Spa or 1820 Spa (Grand Opening in May 2023). Or, take it easy with pampering at Mon Ami, our Route 66 vegan nail salon and spa boasting zero gravity chairs and tons of plants.
Midday: Pizza Party
Nothing feeds a group faster than pizza, and Tulsa has an unexpected pizza scene that is not to be missed. Throw it back at Mother Road Market with the 90's themed Zasa's Pizza & Wings (and plenty of other restaurants) or grab a spot on the patio at East Village Bohemian Pizzaria. If you're on Cherry Street, you can dine in or carry out at Andolini's–and grab gelato at STG across the street for the road.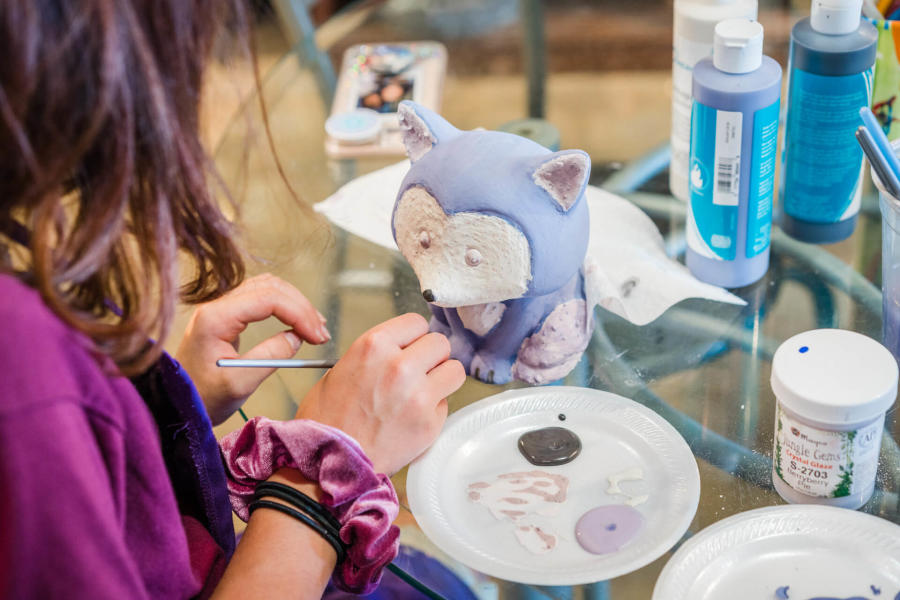 Painting at Purple Glaze.
Afternoon (Option 1): Get Crafty
There's plenty you can do to get your hands dirty in T-Town. For painting, head to Purple Glaze to paint pottery or Pinot's Palate for canvas (and wine). Tulsa Stained Glass hosts classes (and offers a rage room for a whole other experience) and Garden Deva can teach you how to make a mean wind chime, among other things. Go to the Broken Arrow Rose District for sips and succulents at the Succulent Shop–where you can pot your own plant in-store while enjoying selections from their bar.
Afternoon (Option 2): Brewery Crawl (with Plenty of Gluten Free Options)
Tulsa is unofficially the craft brewing capital of Oklahoma. See for yourself at popular spots like American Solera, Cabin Boys or Marshall Brewing Company, which are conveniently next door to one another. Head a few blocks down the street for more brews at Heirloom Rustic Ales or Pearl Beach Brew Pub.
Nothing's Left Brewing Co. offers wacky combinations out of the Kendall Whittier district, accompanied by gluten free slushes and non-alcoholic options. Then there's NEFF, our entirely gluten free brewpub in East Village. With more than a dozen breweries to choose from, the Tulsa brewery scene has something for everyone.
Afternoon (Option 3): Art, History & Architecture
The "Paris of Oklahoma," Tulsa's cultural scene is unparalleled. Head to the most beautiful place in Oklahoma, Philbrook Museum, to check out their rotating exhibits and incredible collection, along with Italian villa vibes and an immaculate garden. Enjoy more historic architecture next door at Tulsa Historical Society & Museum, surrounded by even more gardens. Music junkies will love places like Church Studio, the Bob Dylan Center and Woody Guthrie Center.
Take a deeper dive into Tulsa history with a walking tour downtown. Providers like Tulsa Foundation for Architecture and Tulsa Tours offer public tours on a weekly basis or schedule a custom tour with someone like Tour of Black Wall Street or Tours of Tulsa. Don't miss the historic Greenwood District while you're exploring Tulsa history.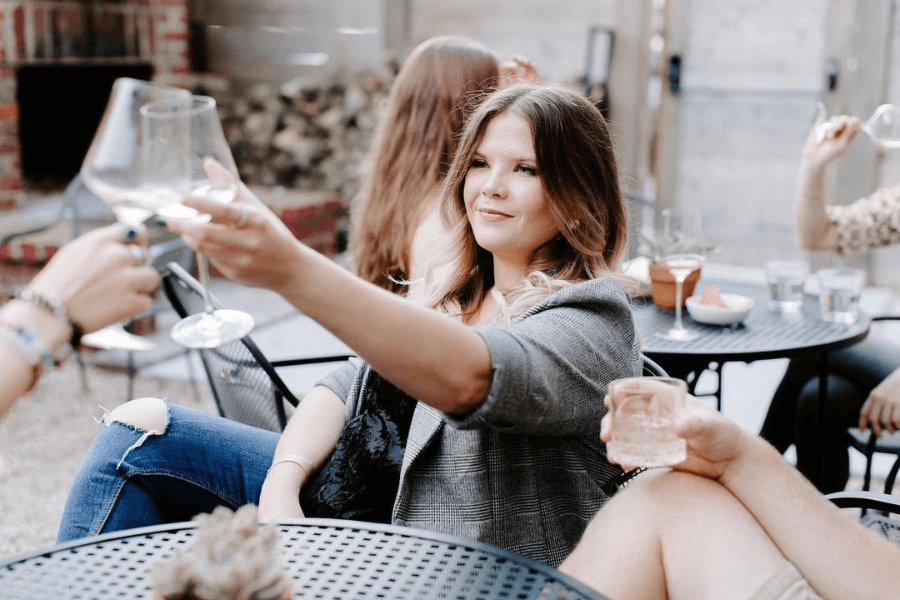 A toast on the Vintage Wine Bar patio.
Early Evening: Sips & Snacks
After your afternoon of exploring Tulsa, treat yourself to a pre-dinner snack and drinks. Try flights of wine and small bites at Vintage Wine Bar, or enjoy patio vibes at Open Container. If you're on Cherry Street you can check out Pinkeasy for pastries in an ornate French tearoom setting, or Prossimo for champagne and charcuterie. 
Evening: Dinnertime Round 2
Think outside of the box and try flavors from the Caribbean at Sisserou's, or New Mexican fare at La Tertulia. Explore European flavors at the French Hen or Restaurant Basque–one of Tulsa's favorite tapas stops. For a more interactive experience, make a reservation at Mr. Kim's, an Asian-inspired steakhouse in the Blue Dome District. Or, stop by the SoBo District for upscale Mexican and mezcal at TXMZ or locally-sourced flavors at FarmBar.
Night: Experience the Tulsa Sound
You can find live music at Tulsa music venues seven days a week, we recommend you check some out while you're here. Whether you're into alternative, hip hop or R&B, Tulsa will have a show for you. See what's on the calendar at places like Cain's Ballroom and the BOK Center while you're in town, or head over to Mercury Lounge, the Shrine, or Soundpony to see who's performing.
After your show, enjoy a nightcap at Inner Circle Vodka Bar, Roof 66 or the Penthouse at Mayo Hotel to soak in the Tulsa skyline, or explore more bars.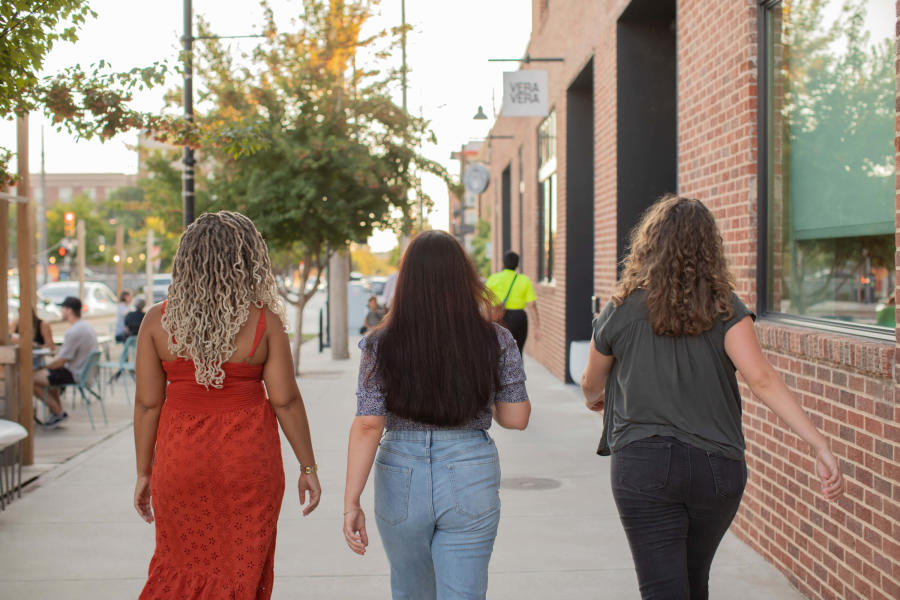 Walking in the Tulsa Arts District.
Sunday
Morning: Sunday Brunch
Beat any potential hangover with a hearty brunch in a cute atmosphere. Experience Sunday church bells in the Cathedral District on the patio at The Vault–a former bank turned upscale dining spot. With three locations around Tulsa, Bramble provides brunch options for all palettes, along with top tier breakfast cocktails. Find mimosa flights and more a Waffle That, home of all things chicken and waffles.
Midday: Take home part of Tulsa
Before saying your goodbyes, stop by one last shop with your girlfriends. Find a unique memento at a gift shop like Ida Red, Buck Atom's Cosmic Curios, or Southwest Trading Co. to remember your weekend living on Tulsa time.