Looking for Tulsa's top LGBTQ-friendly spots? @RaviRoundtheWorld compiled a list of his favorite stops from his Tulsa visit. Whether you're here for the day or spending the week, take a look at the list below to plan your fabulous time in T-Town.
Plus, check out LGBTQ+ events happening during your visit.
Attractions
101 E Archer St, Tulsa, OK 74103
Originally the Arts & Humanities Council of Tulsa, ahha Tulsa is a dazzling mecca of art and creativity in the heart of the Tulsa Arts District. The 40,000 square-foot arts center includes galleries, immersive art and offers a diverse array of arts and humanities experiences year-round.
Visitors are encouraged to explore, learn and create through different hands-on activities throughout the building. Ahha is a wonderfully inclusive space and is a member of the Equality Business Alliance by Oklahomans for Equality.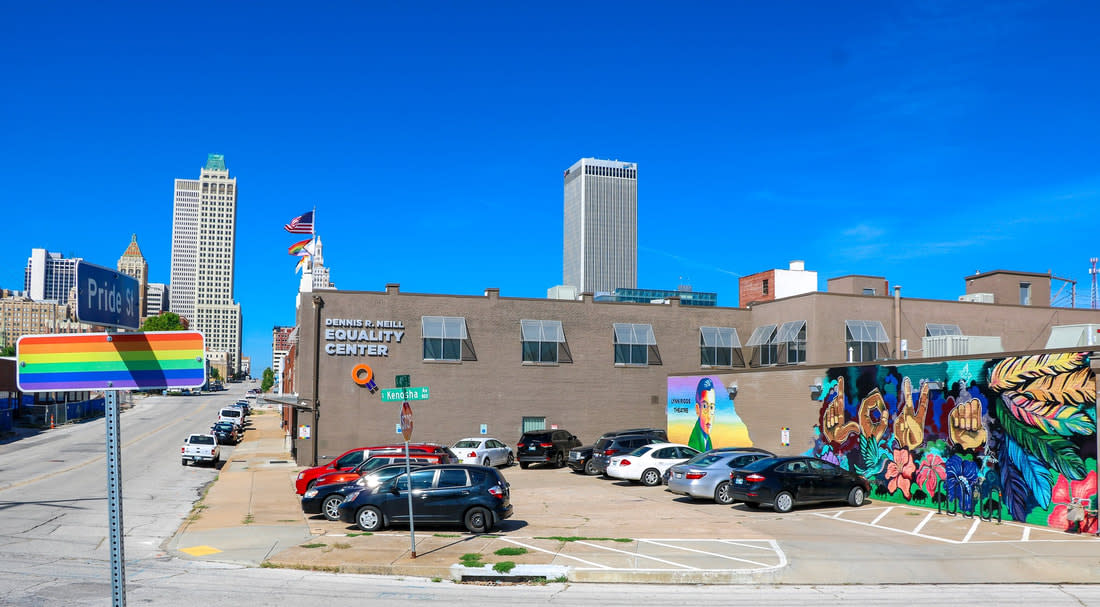 Dennis R. Neill Equality Center. Courtesy of Oklahomans for Equality.
Dennis R. Neill Equality Center
621 E 4th St, Tulsa, OK 74120
Established in 1995, the Equality Center serves the Lesbian, Gay, Bisexual & Transgender (LGBT) and allied community and is one of the largest centers of its kind in the region. The center is owned and operated by Oklahomans for Equality and includes an event center, a full-service lending library, a wellness center and more.
Be sure to keep up to date with events and programs offered by Oklahomans for Equality at the Dennis R. Neill Equality Center by visiting their website.
2650 S John Williams Way East, Tulsa, OK 74114
Named the Best City Park in the United States by USA Today, the Gathering Place is a must-stop visit with something for everyone. Designed as a vibrant and inclusive space, Gathering Place blends nature with an urban setting. Since opening in 2018 and named USA Today's Best New Attraction, Gathering Place has provided Tulsans and visitors alike with space to play, relax and gather along the river.
Take the family to explore the incredible playgrounds spanning the park's 66.5 acres or take a walk with that special someone through Gathering Place's impeccably well-groomed landscape. The park includes several spots to grab a coffee or a snack and welcomes dogs on Wednesdays.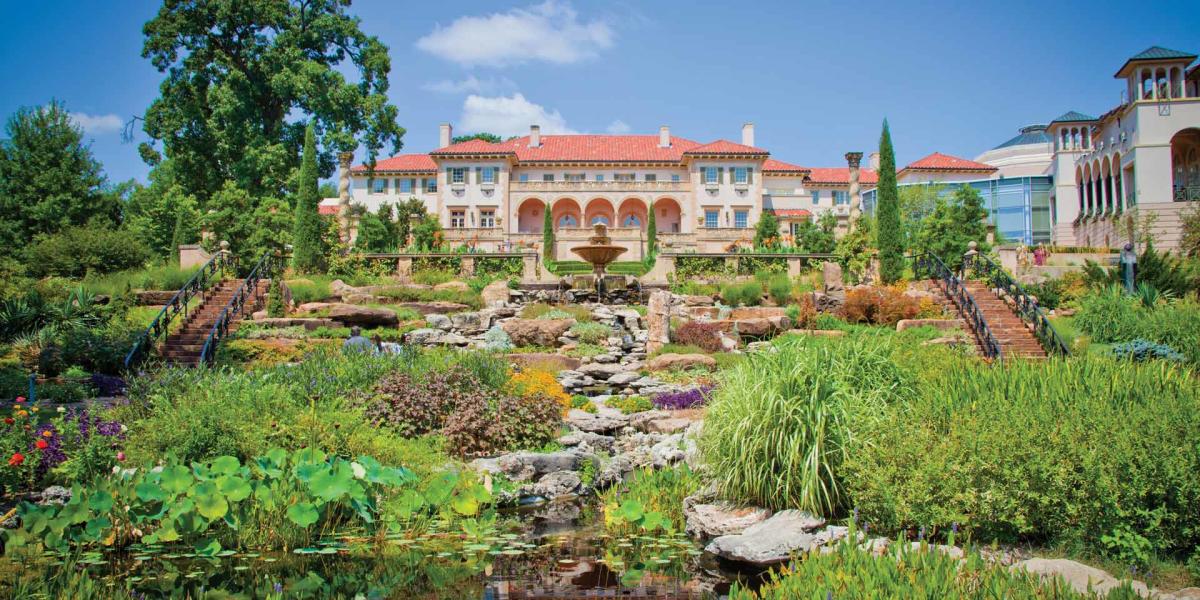 Philbrook Museum
2727 S Rockford Rd, Tulsa, OK 74114
Named the most beautiful place in Oklahoma by House Beautiful magazine, Philbrook Museum of Art is an essential stop on any itinerary. Nestled on 25-acres of pristine gardens in the heart of midtown Tulsa, Philbrook Museum offers world-class art in a villa that transports visitors to the Italian countryside.
In addition to a sprawling collection of American, Southwestern, Renaissance and Baroque art and sculpture, Philbrook's collection includes one of the most comprehensive surveys of 20th Century Native American art in the United States. Founded out of the historical home of Waite and Genevieve Phillips, Philbrook also features an architectural addition with auditorium, restaurant, library and educational studios.
Tulsa Foundation for Architecture
633 S Boston Ave, Tulsa, OK 74119
Tulsa Foundation for Architecture (TFA) celebrates Oklahoma's architectural heritage and champions the art of good design. Since the early 1990s, TFA has served as a resource that recognizes, records and preserves the built environment, and advocates quality future development that enhances Tulsa's livability.
With tours built on storytelling, TFA tour guides offer engaging, unique experiences and will answer any question you throw their way. Make plans to attend one of their many tours exploring Tulsa's architectural beauty and history, including ornate art deco details, facts about Tulsa architects like Bruce Goff, and Tulsa's underground tunnel system.
Eats
Dalesandro's dining room. Courtesy of Tulsa Food.
Dalesandro's Italian Cuisine
1742 South Boston Avenue, Tulsa, OK 74119
A classic Italian restaurant with a long history in Tulsa, Dalesandro's is an excellent addition to your Tulsa trip. The restaurant was founded in 1990 by Vincent "Buzz" Dalesandro III, and is now run by Buzz's son, retired professional soccer player Vincent "Sonny" Dalesandro IV.
A SoBo (S. Boston) district icon, Dalesandro's is on the outskirts of downtown Tulsa near several of Tulsa's major attractions. Dalesandro's is a member of the Equality Business Alliance by Oklahomans for Equality.
402 E 2nd St, Tulsa, OK 74120
Whether you crave Sunday brunch or a casual dinner, Dilly Diner is here for you. With breakfast served all day, in addition to hearty lunch and dinner options, this Blue Dome district classic can satisfy your cravings day or night. Don't miss their chicken and waffles served with spicy honey or their BLT+A (for avocado.)
With plenty of vegan-friendly options, Dilly Diner has something for everyone. Pop in for an early breakfast to start off your day, or for a relaxing midday meal.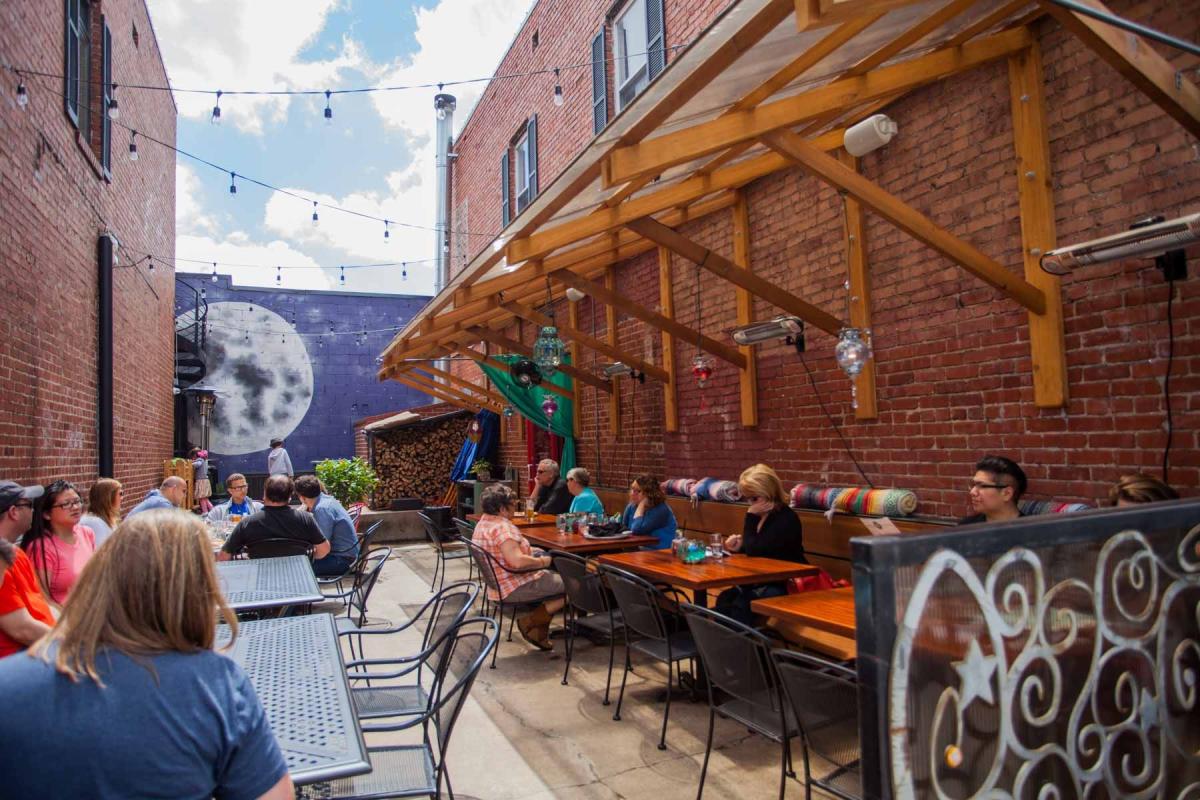 East Village Bohemian Pizzeria patio. Courtesy of Tulsa Food.
East Village Bohemian Pizzeria
818 E 3rd St, Tulsa, OK 74120
Pizza-lovers absolutely must visit Bohemian Pizzeria for their locally sourced flavors and cozy setting in East Village. Partnering with local vendors and importing additions from Italy, Bohemian packs a taste of Italy into every bite.
Located in the easily walkable East Village district on the edge of downtown Tulsa, Bohemian Pizzeria is a member of the Equality Business Alliance by Oklahomans for Equality.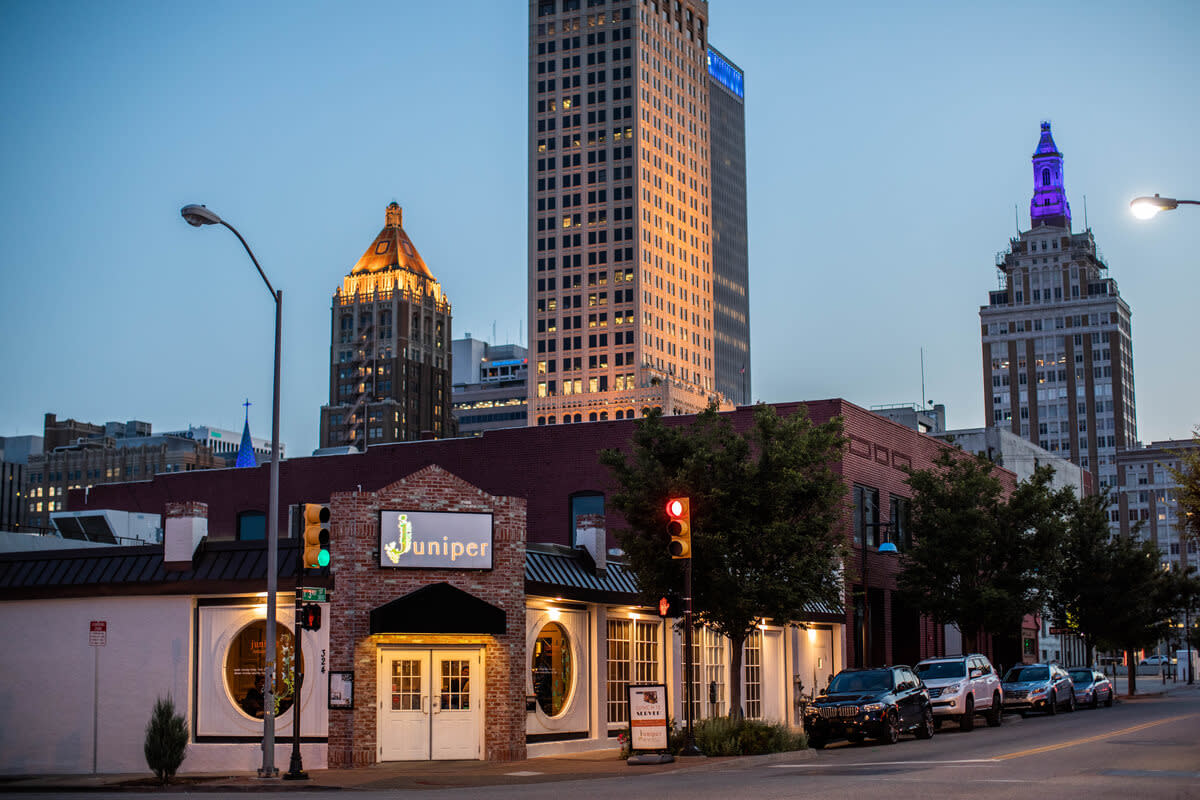 Juniper exterior.
324 E 3rd st, Tulsa, OK 74120
Juniper is an award-winning farm-to-table restaurant in the downtown Blue Dome district out to win over your heart. The restaurant offers quaint craft cocktails and creative, modern cuisine in an intimate, warm atmosphere. Their downtown location supplies easy access to many nearby concert venues including the BOK Center and the Tulsa PAC, making it an excellent choice for a pre-show meal.
A member of the Equality Business Alliance by Oklahomans for Equality, Juniper is an inclusive space where a good time is guaranteed. Enjoy weekly chef's specials or a try a dish from their seasonal menu paired with the perfect glass of wine.
1816 Utica Square, Tulsa, OK 74114
For an easy and delicious lunch, head over to Queenie's in Utica Square. This farm-to-table cafe and bakery uses locally sourced ingredients to craft delightful breakfasts, sandwiches and entrees.
If you have a sweet tooth, you have to try one of Queenie's flavor-packed pastries. Stop in to enjoy a mid-day snack on their patio, you won't regret it!
Drinks
2630 E 15th St, Tulsa, OK 74104
Just off Cherry Street, a Tulsa dining and shopping mecca, you can find Yellow Brick Road Pub (YBR.) Yellow Brick Road is a well-known LGBTQ+ friendly spot with pool tables and a friendly atmosphere.
Check their social media when you visit to find out about their themed parties for holidays like St. Patrick's Day, or their game nights with nostalgic gaming consoles like the Nintendo 64.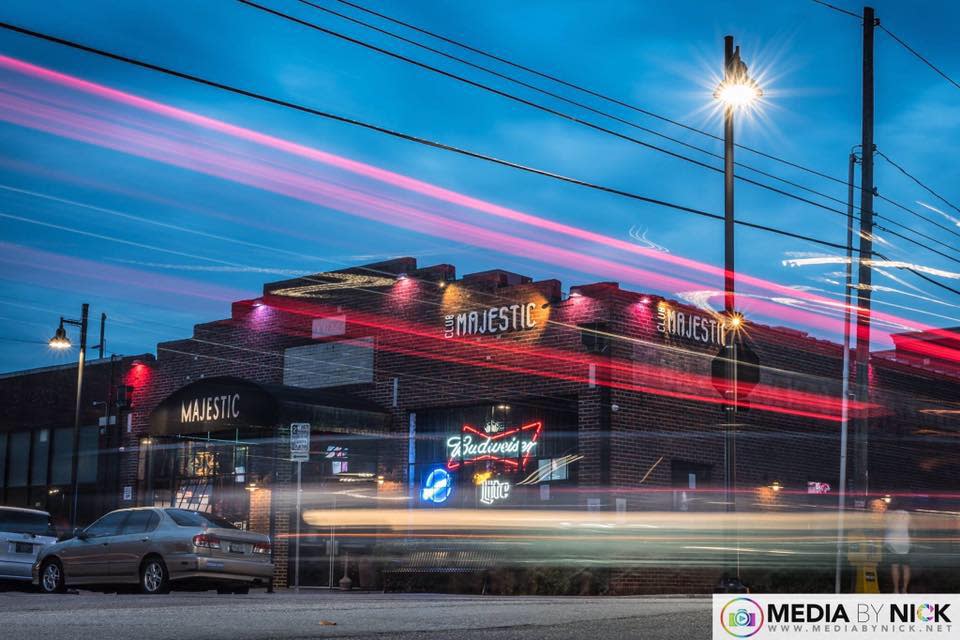 Photo courtesy of @ClubMajesticTulsa.
124 N Boston Ave, Tulsa, OK 74103
If you're looking for a younger crowd, head over to Club Majestic. This 18+ club often hosts drag shows and dance competitions, plus their cocktail rotation has something for even the pickiest person.
Club Majestic is the perfect spot to dance the night away with your friends or to meet new people. It is upbeat and full of energy, so come prepared to feel the base drop.
1338 E 3rd St, Tulsa, OK 74120
Between East Village and the Pearl District, you'll find the Tulsa Eagle. Designed as a space for people to be themselves and have a great time, Tulsa Eagle opened back in 2005. It follows the typical Eagle bar vibe and welcomes everyone.
You can keep up with Tulsa Eagle's themed events, including underwear nights every Wednesday and occasional karaoke, by following their social media. Stop by the Tulsa Eagle for an afternoon or evening cocktail with friends to unwind and enjoy.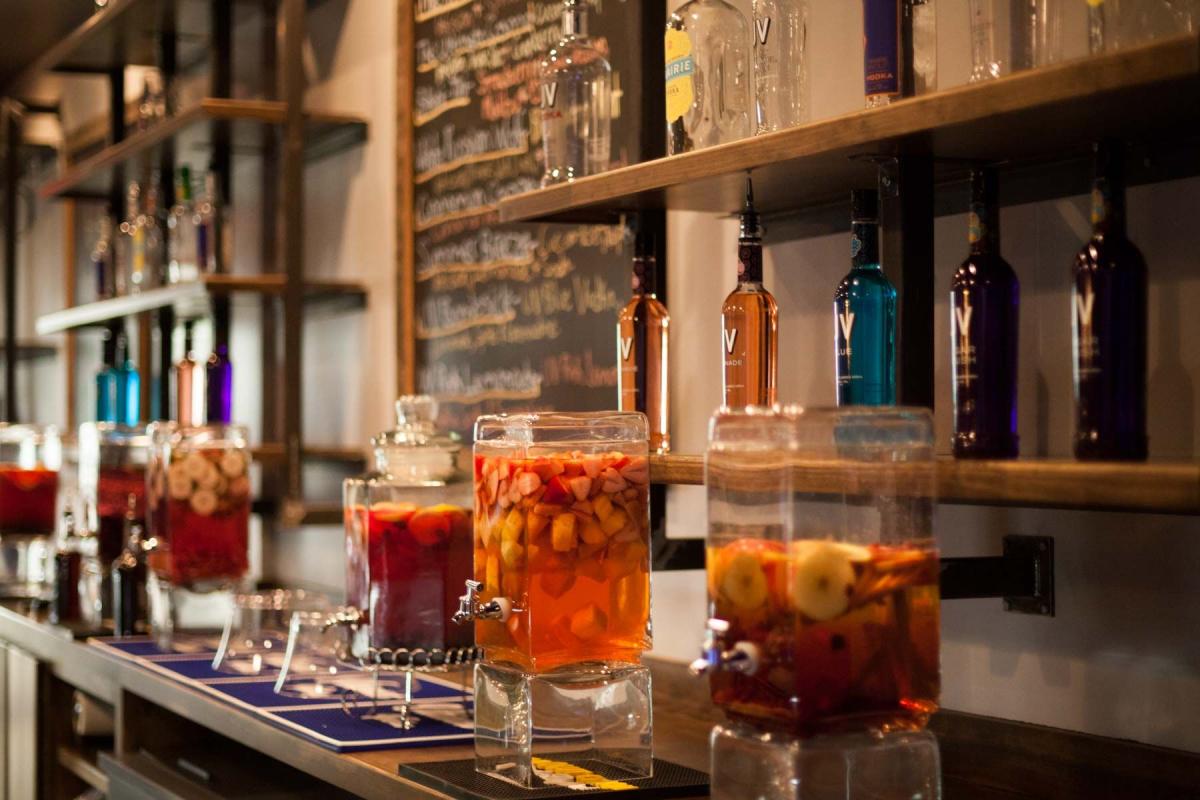 Inner Circle Vodka Bar. Courtesy of Tulsa Food.
410 N Main St, Tulsa, OK 74103
Trying to impress a vodka-lover? Look no further than Inner Circle. The bar has an impressive selection of infused vodkas and a wide variety of delicious cocktails. While you're there, get the full T-Town experience and try a Tulsa Thyme, a lemony-drink infused with (you guessed it) just the right amount of thyme.
This bar features outdoor green space with yard games and seating available in retrofitted shipping containers. Make sure you stop by this member of the Equality Business Alliance by Oklahomans for Equality, conveniently found in the Tulsa Arts District across the street from the historic Cain's Ballroom.
224 E Admiral Blvd, Tulsa, OK 74110
Converted from historic Phillips 66 gas station #473, Four. Seven. Three. (473) is a sleek, modern bar in the Kendall-Whittier district dedicated to serving local beer, craft cocktails and live music. With an indoor/outdoor bar setup, guests are easily able to grab a refill from one of 473's friendly bartenders while enjoying the beautifully diverse Oklahoma weather outside.
Dog-lovers will be happy to know 473 is pet-friendly, and their large outdoor space provides perfect sniff spots for your pooch. Keep an eye on their social media for live concerts and events you won't want to miss!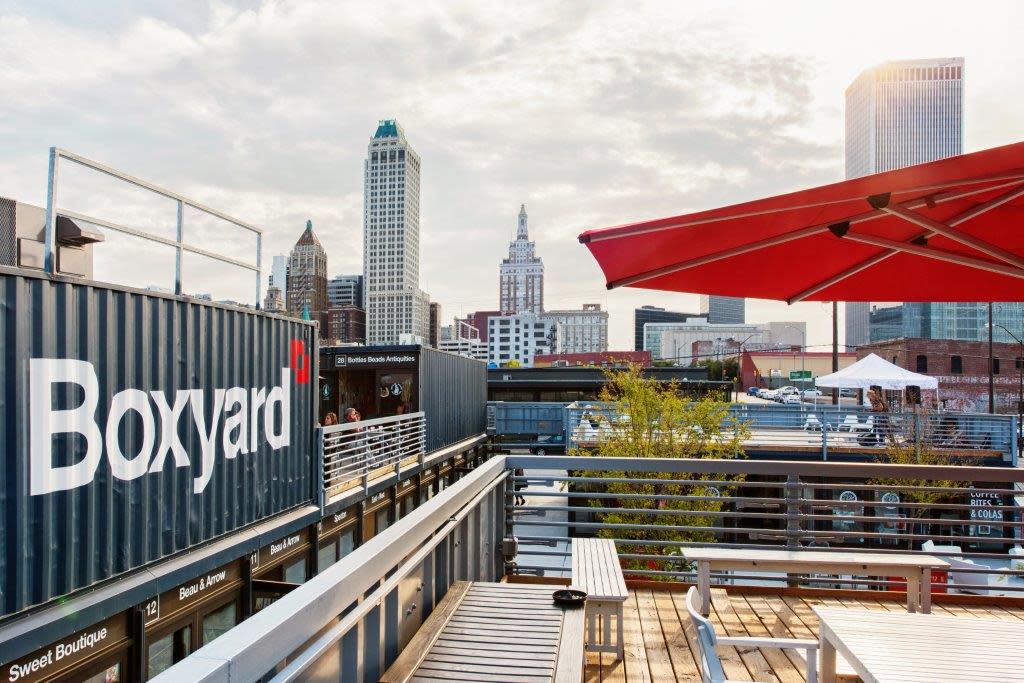 View from Open Container at the Boxyard.
502 E 3rd St #39, Tulsa, OK 74120
There are plenty of places in Tulsa where you can find insta-worthy views, but Open Container is one of the best. Complete with vegan-friendly bar food options, Open Container is perched on the second floor of the Boxyard and makes an excellent choice for happy hour or dinner. Try one of their draft cocktails or chicken 'sammies' and take in their incredible view of downtown Tulsa.
Located where the Blue Dome district meets the East Village district, Open Container is conveniently close to plenty of shopping and dining options. Make sure you include a stop at Open Container during your evening out!
Stay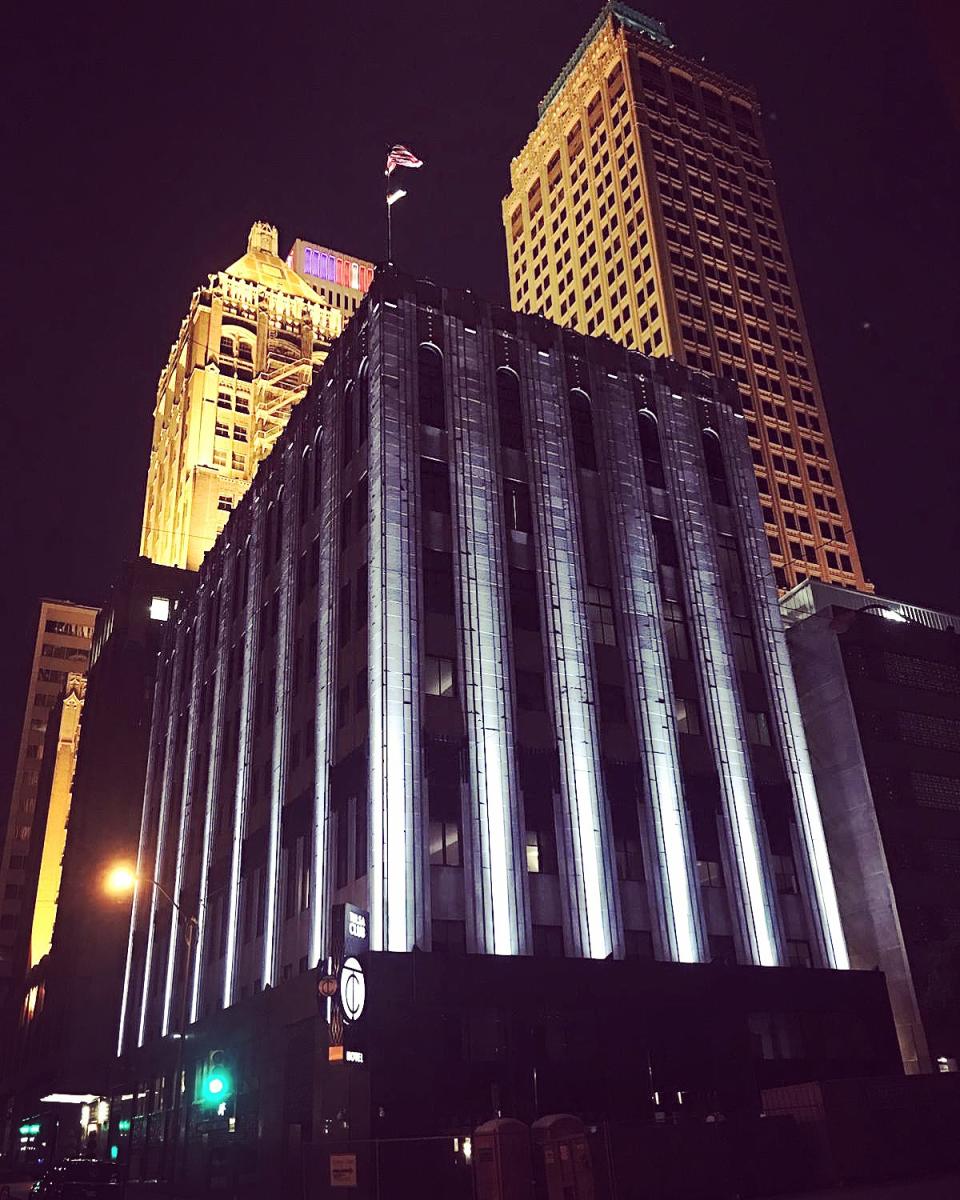 Tulsa Club Hotel exterior.
115 E 5th St, Tulsa, OK 74103
A downtown staple, the Tulsa Club Hotel, Curio Collection by Hilton is a wonderful choice for your stay as it is walking distance a menagerie of highly rated restaurants and bars. The 1927 building itself is immaculate, featuring classic Tulsa Art Deco design by world-renowned architect Bruce Goff.
Their location in the downtown Deco district is a great launching point for any adventure, with midtown attractions like the Gathering Place. Perks of staying at this Equality Business Alliance member include their free local shuttle, indoor-outdoor event space for up to 400 guests and a rooftop terrace.
100 E 2nd St, Tulsa, OK 74103
Near where the Blue Dome, Deco and Arts districts meet, the Hyatt Regency is a wonderful choice for your stay. The hotel includes an on-site spa and indoor/outdoor pool for when you need to relax and is walking distance from many Tulsa favorites including Center of the Universe, the BOK Center and more!
With many of Tulsa's major attractions including Gilcrease Museum and the Golden Driller within a 10-minute drive of the hotel, Hyatt Regency is an excellent spot for a home base during your trip. The hotel offers complimentary Wi-Fi, airport shuttle, a 24-hour fitness center and is a member of the Equality Business Alliance by Oklahomans for Equality.