Did you know that within the 400+ miles of Route 66 that stretch through Oklahoma, there are actually two alignments that run through Tulsa? With its rich Route 66 history, Tulsa is one of the main sources in Oklahoma for all things Americana. And with Tulsa's heavy involvement in the Mother Road, it only makes sense that we help lead the way in celebrating Route 66's Centennial!
Route 66 will turn 100 in 2026, and AAA Oklahoma can't wait to ramp up the party. This June, the inaugural AAA Route 66 Road Fest will kick off to commemorate the great history AND future of the Mother Road right here in Tulsa. The goal of the festival is to continue every year until 2026. This year, the week-long event will begin at the Bennett Event Center at the OKC Fairgrounds June 18-19, and then move to Tulsa's SageNet Center at Expo Square the following weekend, June 25-26.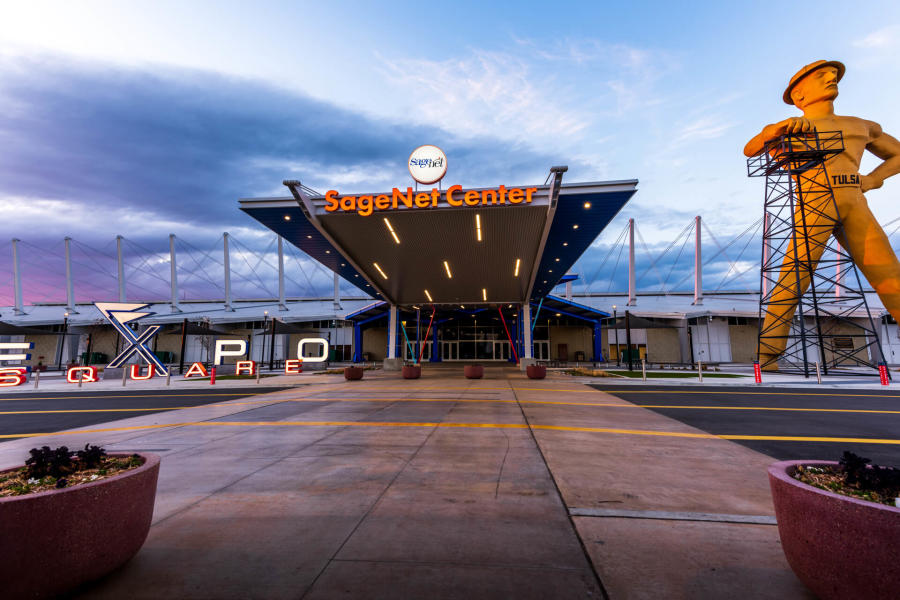 There's something for everyone of all ages and interests to enjoy at the Road Fest; from car shows and immersive activity zones to live music performances and a 14,000 sq. ft. hand-crafted exhibit that takes you on an interactive journey through the last 100 years.
Your family can experience everything the Mother of All Road Fests has to offer with one-day general admission tickets! You can grab your tickets here.
Wheels on Route 66
Expect lines of cars dating from 1926 all the way to today competing in our juried car shows! Plus, there will be a large vintage RV display area to explore in the RV Park campground exhibit presented by Love's Travel Stops. And, to celebrate the future of mobility, free test-rides will also be available on fully autonomous self-driving shuttles from Navya.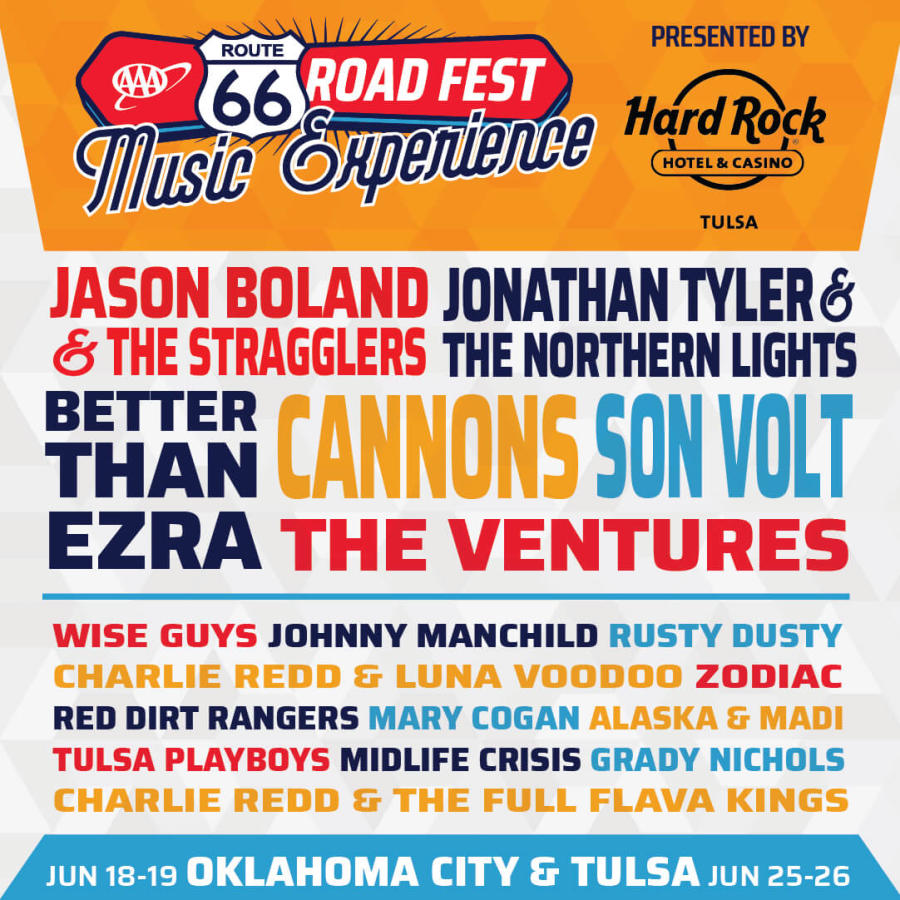 Live Music
The Road Fest Music Experience presented by Hard Rock Hotel & Casino Tulsa will feature over 20 bands from various genres playing all day over both weekends of the event! You will also have a chance to meet the bands in a free experience available to all with a Road Fest ticket at the Dell Technologies Artist's Lounge.
Check out Tulsa's artist lineup:
Saturday June 25
Better Than Ezra
Cannons
The Ventures
Rusty Dusty - Presented by Dell
Weston Horn
Midlife Crisis
Charlie Redd & The Full Flava Kings
Sunday June 26
Son Volt
Tulsa Playboys
Red Dirt Rangers
Zodiac
Grady Nichols
Please check here for the OKC lineup, and here for the Tulsa lineup.
Pop-Up Shops
The Road Fest is making it easier than ever to shop small and shop local! From talented artists and unique craftsmen to helpful services and all things Americana, you will shop with some of Oklahoma's finest. Catch a glimpse of the shops here.
Activity Zone
There'll be plenty of family activities at the Road Fest such as the Route 66-themed mini golf course, live Pinewood Derby tracks, virtual reality zones, interactive art, and even robotics and drones. Numerous food and drink options will be available, and the large Route 66 drive-in movie area is the perfect place to sit down and enjoy refreshments.

Presentation Stage
The Road Fest Presentation Stage will feature Route 66 historians and authors to discuss the impact the Mother Road has had over the past (almost) century, as well as its bright future ahead.
Journey Exhibit
The center attraction of the Road Fest will be the Route 66 Journey, a historical, interactive exhibit of over 14,000 sq. ft. You will feel like you're traveling through the decades of innovation, popular culture, and nostalgia in Route 66's history.
The final exhibit in the series will feature the story of revitalization and the great future of Route 66. Full of artifacts and history, the exhibits will also include live actors dressed in the times to engage with participants. The Journey exhibit will no doubt be the most unique and immersive activity of the whole event!
Join us at the Route 66 Road Fest, coming to Tulsa June 25-26, 2022. One-day, all-access general admission tickets are on sale now.
$20 for adults 18 and older
$17 for senior (55+) and military
$10 for 12- to 17-year-olds
$5 for 5- to 11-year-olds
Children under 5-years-old are free
Grab your tickets today here.